During our pre-assessment research of the phone calls logged by our volunteers, the home of 99-year-old Ms. Mable and her daughter Ms. Rose caught our attention. Their status was urgent-immediate assistance requested.
During our first visit, we assessed damage to the home and met the homeowner's daughter, Ms. Rose. Ms. Rose is a full-time caretaker for Ms. Mable. When we met Ms. Rose, her mother was hospitalized with pneumonia. She was hospitalized in December and scheduled to be released this week. The home was not in any condition to receive Ms. Mabel when she was released from the hospital.
Homes in Texas are not insulated for the cold temperatures that Winter Storm Uri brought to this area of the country. The majority of the water pipes in their home were in the attic, with little insulation to protect them. As a result, the cold temperatures caused water in the pipes to freeze and then the pipes burst. Ms. Rose was unable to turn off the water main. As outside temperatures rose, water thawed and flowed through the damaged pipes for two days, pouring "like waterfalls" into the home and destroying everything below.
On our second day, water damage could be seen on all walls and mold was growing on wet surfaces. It was evident we had a lot of work ahead. Because of the damage caused by the water, a full gut of the home was needed.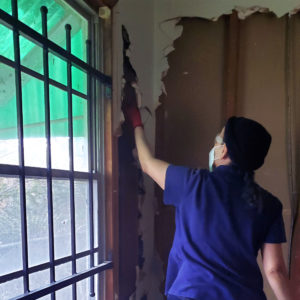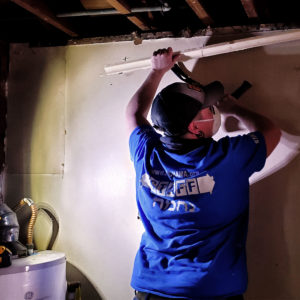 Ms. Rose, 69 years young, rolled up her sleeves and asked what to do first. For every hour the IOCC and NECHAMA teams worked, Ms. Rose worked alongside us. As long as there was work to do, Ms. Rose committed to finishing it. Ms. Rose was inspired by us and excited to learn how to do the work. Most importantly, she was eager to learn how to prevent damage in the future. She referred to us as her "angels." We were determined to get the house ready for repair work and committed to getting the house one step closer for Ms. Rose and her mother to move home.
Ms. Mable was released from the hospital on Monday. When they left the hospital, Ms. Rose drove by the house to show Ms. Mabel the progress of our work. Ms. Mable wanted to see the "angels" that came to help with her house and give them a wave from the car.
On our last day, as we completed our work and began our final cleanup, Ms. Rose could see what the future holds for her and her mother. As one chapter ends, a new chapter begins. A handyman walked into the home. He smiled at the empty canvas we created and stated "we can work with this!"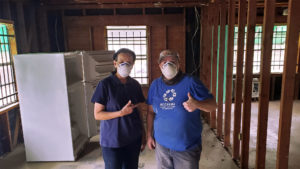 Follow our updates to learn more about the work we are doing in Texas!