"It was that one guy, that one house, that I'll remember forever."
Every disaster responder has that moment. It's the day you meet a homeowner whose story impacts you so deeply that you fall in love with the idea of living your life to serve others. For our Team Leader Jacob, it was a man named Luis that left the greatest impression on him.
Jacob volunteered with NECHAMA in Puerto Rico last summer as a member of the CUNY Service Corps when his team was assigned to fix Luis's roof. Luis spoke Spanish, so it was a challenge for him to express himself to the team of volunteers. As one of the few bilingual volunteers in his group, Luis was able to open up and share his story with Jacob. He turned out to be "quite the chatterbox" and in between exclamations of gratitude Luis shared his war stories and told Jacob how his brother lost everything after Hurricane Maria. Jacob found Luis incredibly funny, humble, and intelligent, and says "It was just that one small interaction that made me feel so connected to him."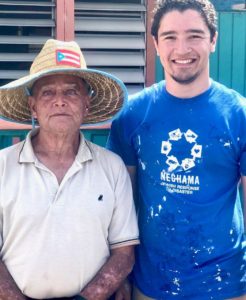 A year later, Jacob has come back to Puerto Rico as a NECHAMA Team Leader. Although the same set-up, Jacob has seen first hand how this project has expanded from Rebuild to Recovery. He loves that NECHAMA has partnered with local organizations to take on a more holistic approach to further sustainability efforts on the island. He says that it gives him hope knowing that these efforts will continue to move Puerto Rico further towards recovery even after this summer project ends. Jacob contributes enthusiasm and kind-heartedness to the work site, and he brings so much joy to the Project Staff Team. 
Jacob, we cannot wait to see how you continue to grow and impact homeowners like Luis!
If you are interested in learning more about our current projects sign up for our newsletter today!