On August 29, 2021, Hurricane Ida made landfall on the 16th anniversary of Hurricane Katrina. This destructive and deadly storm made landfall as a Category 4 hurricane, and was the second-most damaging hurricane to make landfall in Louisiana.
NECHAMA teams quickly departed, starting what has since become a 7-month response program in St. Charles Parish. Staff and volunteers have assisted 65 homeowners with clearing damage and debris from their homes and properties. At the present time, 421 volunteers have invested 4,249 hours of time to assist the community.
As our Hurricane Ida program pushes forward in 2022, we want to take a moment to highlight Airlink, one of our amazing partners through the years. Airlink's partnership allows us to bring in staff and volunteers from across the country to join our response efforts.
Over the years, our partnership with Airlink has provided hundreds of donated flights for NECHAMA staff and volunteers. Donated flights to places such as Texas, Florida, the Carolinas, Louisiana, and Puerto Rico to name a few! Currently, Airlink provides airlift and logistics expertise to more than 130 nonprofit organizations around the world.
Each flight was possible because generous donors gave their miles to support relief efforts around the country.
Click on this link to donate frequent flyer miles to Airlink today!
Want to learn more about Airlink? Visit their website: https://airlinkflight.org/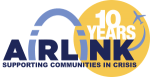 #Airlinked #HurricaneIda #ida #hurricane